Peoria Catholic Schools
Give Your Child the Gift of Faith-Based Education in a Peoria Catholic School
Every child has a right to education. As a parent, you must ensure that your child receives the best education. Unfortunately, not all children get the best education.
Why?
The quality of education varies depending on the choice of school. While public schools are a top choice for many parents due to the low costs and easy convenience, private schools have gained a reputation for academic excellence, personal attention, and specialized programs, among other factors.
Some, like catholic schools, offer curriculums that integrate faith and academics.
So, if you're a parent registering or considering transferring your child to a private school, consider a Peoria catholic school, St. Mary's School to be precise. Our school is dedicated to providing academic excellence, spiritual growth, and social responsibility.
Why Should You Register/Transfer Your Child to a Peoria Catholic School?
Many private schools are religiously affiliated. So you can choose a Christian or catholic elementary school for your child.
But why should you consider a catholic private school?
Not only do catholic schools teach students, but they also nurture and guide them to reach their full potential. They focus on educating your whole child—academically, spiritually, physically, and socially, to become future leaders.
Here's what catholic schools in Peoria offer for students;
Competitive academics
Focus on faith
Safe sense of student-focused community
Passionate educators
A solid foundation for continued growth
But aren't catholic schools only meant for catholic believers?
Not really.
Catholic schools accept enrollments from students from diverse faiths and cultures. So if you're looking for the best catholic school for your child, consider St. Mary's School an excellent choice.
About St. Mary's School
St. Mary's School is among the best catholic schools in Peoria. We offer high-quality education for students from kindergarten through eighth grade, rooted in catholic traditions. Our mission is to captivate, challenge and inspire students to strive for individual excellence as life-long learners.
Here's what sets us apart from other Catholic schools in Peoria;
Small class sizes: This allows our teachers to provide personalized attention to students. The student/teacher ratio is at 12:1.
Outdoor classroom: We have a unique space outdoors for hands-on learning, play, and prayer.
CONNECTed: A teacher-created, real-life inspired curriculum that features various subjects, including STEM learning, Agriculture/cooking, typing/coding/computers, and progressive physical education.
Quality extracurriculars: This includes band & music, athletics for boys & girls, art & theater, chess club, and student council.
We are Strengthened by Faith
At St. Mary's School, we have three cornerstones of our faith that help us form a solid foundation for your child to build purpose in their life. So when you choose us, you're not only investing in your child's education but also their values, character, and sense of purpose.
We equip your child with the knowledge and skills to succeed in school and life. Our school community is built on a solid moral and ethical foundation of faith and academic excellence.
St. Mary's School strives to teach your child to grow and act with faith, compassion, and integrity.
Here are our three cornerstones of faith;
Liturgy
St. Mary's Schools gathers as a whole community to worship and commemorate the feasts of the liturgical calendar. Our pastor and teachers work together to raise our children in the Catholic faith.
Sacrament
At St. Mary's School, we believe that Eucharist, Reconciliation, and Confirmation sacraments are powerful moments in a child's spiritual journey. Parents are actively involved in the preparation of these sacraments.
Service
St. Mary's School allocates time, talent, and treasure to God's work on earth. Our children learn the joy of giving and caring through service involvement. And this is one of our strongest pillars.
Registration and Admission
We want you to have an easy time registering or transferring your child to St. Mary's School. Therefore, we've made the process straightforward and stress-free.
You can register your child at any level from pre-K to 8th Grade.
For new registrations, we ask that you come to our school office to complete the process. Here's what you'll need to complete the registration process;
Tuition agreement form
Your child's birth certificate
Completed registration form and fees
If transferring your child to St. Mary's School, you must submit your child's last report card or transcript of grades along with any testing information.
Note: You must pay a non-refundable family registration fee of $395.
Visit our website to download our 2023-2024 registration forms and start the registration process.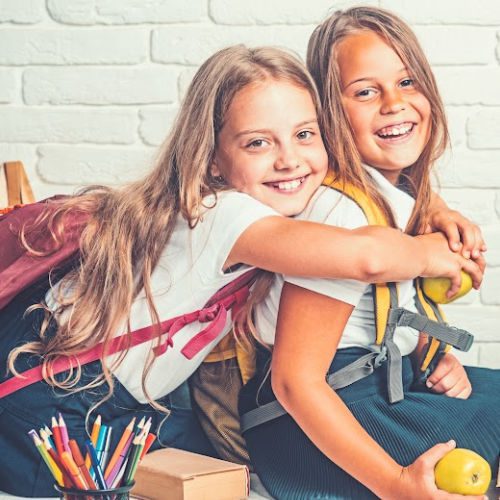 Testimonials from Parents and Students/Alumni
If you don't believe our word, perhaps a testimonial from a fellow parent or school alums will make you trust us with your child.
We've had so many parents registering and transferring their students to our school for the many reasons we mentioned above—quality education, lower student-teacher ratio, outdoor classroom, and more.
Some praised how our teachers know and love the kids. They know when they have a problem and can quickly spot and address any challenges. Several of them were impressed by the small class sizes, meaning teachers offer individualized attention to students. Watch what other parents have to say about St. Mary's School.
Megan Mazander, an alumnus of St. Mary's School, feels she owes much of her success to the school. She attributes her success to the family type of environment she got at St. Mary's.
Logan Plack, another alumnus of St. Mary's, says he will remember all the moments he played out in the fields, gym, classrooms, and the teachers. He says that all the experiences at St. Mary's have molded him into what he is today. Watch this video to see his full testimonial.
Register or Transfer Your Child to St. Mary's School Today
By now, you shouldn't be struggling to find a catholic school in Peoria for your child. We already got one for you—St. Mary's School.
We welcome you and your child to our school.
Feel free to contact us or visit us at any time concerning your child's registration or transfer to our school. We will be happy to enroll your child at St. Mary's School.
Here are our location and contact details;
9910 W. Knox Street Edwards, IL 61528.
Phone: 309-691-3015
Fax: 309-691-4540